Benefits of the OptfinITy Cloud Based File Synchronization System
Accessibility
Users can access files on computers, web browsers, mobile phones and tablets

Auto versioning and replications
Users working and saving data can revisit older versions. Replication of data off the computer prevents data loss in case of file corruption and hardware failures.
Team Collaboration
Users can share files and folders with each other so they can work on a set of documents as a team. Team members are automatically notified when changes are made.
Private key management
Unlike consumer cloud products, OptfinITySync uses a private encryption key. The previously mentioned consumer products are hosted publicly, meaning that everyone shares the same encryption key; when that encryption key is compromised, your businesses' documents, your clients' documents, and your personal documents will be vulnerable. OptfinITy Sync also uses 448-bit Blowfish encryption on-device and in-transit
Central Administration
OptfinITy Sync administrators will be able to on-board users, set quotas, control bandwidth throttling, set user policies/features, create team shares, demand and schedule reporting, set alerts, view tracking, and create organization groups.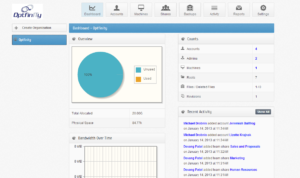 Other OptfinITy Sync Benefits
Granular user-access and security controls
Every business has an organizational structure. OptfinITy Sync allows you to set policies for individuals within your company, including which employees can share files, can delete files and revisions, access certain files, and what types of files they can upload.
Top of the Line Data Center and Backup Process
Our hosted solution is stored in an SSAE16 and SAS-70 Type II compliant datacenter. The data is stored on redundant drives and also backed up nightly for added protection.
How does it work?
For a better understanding of how it works, take a look at this diagram.