There have been many allegations over the years regarding Facebook listening to user conversations. The idea is that after hearing you mention a certain product or service, Facebook will advertise it towards you. Sometimes it seems there must be some truth to the rumors, as an ad for the latest athletic wear pops up right after you tell your friend you're planning on getting a gym membership.
The ultimate reality is – we really don't know whether Facebook is listening in or not. While it may seem to be the case at times, the company has repeatedly denied it. Facebook's privacy policies say as much on their website, and in 2018 they even denied it in front of congress. Essentially, Facebook listening to our conversations is all speculation. The good news is that there are steps you can take to protect yourself on Facebook if you're skeptical.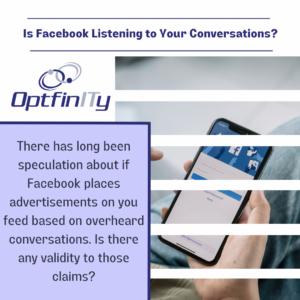 Facebook Setting to Change
The best place to start is by disabling Facebook's access to your microphone. Facebook claims to only use the microphone feature when using features like making a call through the app or Facebook Live. However, completely shutting down the access eliminates any concerns you may have. Just be warry that you will not have access to certain features while your microphone is turned off.
Turn off your microphone for Facebook: iPhone
Ensure your Facebook app is updated in the app store
Open your Settings app
Scroll down through your apps until you find Facebook
Toggle off the Microphone option
Turn off your microphone for Facebook: Android
Open your Settings app, search Permission
Select Permission Manager
Tap Microphone
Select Facebook
Set microphone access to Deny
Other general recommendations for Facebook include using two-factor authentication, ensuring your email address is up to date, and having a strong password. If you have any questions about your privacy on social media sites, the protection of your personal data, or any general IT inquiries, feel free to reach out to us at info@opftinity.com.