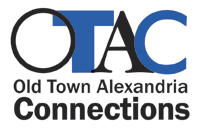 For the tenth consecutive year, as Alexandria's premiere business organization, Old Town Alexandria Connection, OTAC, is hosting a FREE reception to foster relationships among regional business professionals who will meet, mingle, and connect with potential clients and business opportunities. Invitation-only admission with complimentary food, cash bar, scholarship raffle, & multiple prize drawings.
One hundred percent of all of the proceeds from this event, including the event fee, the reception sponsors, and the onsite auction directly supports the Peter Williams Memorial Scholarship; given to college-bound high school seniors who embody the community spirit that the late Peter Williams, attorney and past OTAC President, practiced throughout his lifetime.
Optfinity is not only a proud sponsor of OTAC and this event, but Michael Drobnis, our President and CEO, is also the current OTAC President. So please click here to register as a guest of Optfinity and we look forward to seeing you at this highly anticipated event.
WHAT:   Food, drinks, door prizes, auction, networking, business opportunities, & great conversation
WHEN:   Wednesday, October 11th, 2017 | 5:30 PM – 7:30 PM
WHERE:   In the heart of Old Town Alexandria at:
                 Chadwicks – Second Floor Dining Room
                 203 Strand Street, Alexandria, VA 22314