Date/Time
Date(s) - February 25, 2021
12:00 pm - 1:00 pm
Categories
About the Series
We learned a lot about how to help a business adapt to these necessary changes this past year. To help every small business stay safe, we're launching a free new webinar series on how you can make adjustments without making sacrifices.  Each month of  "Are You Ready for the New Normal?" tackles an different issue on how to safely and effectively transition to working remotely.  Check out the other topics in this series!
Keeping your Office and Remote Workers Protected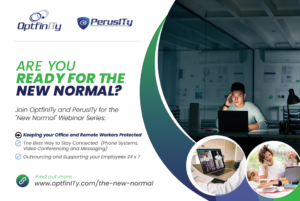 As people settled into remote working, more than half of global businesses encountered at least one cybersecurity scare. While global businesses have the capability to adapt, many smaller organizations have been stuck worrying instead. Are your data and connections encrypted? Are your employees protected from cyber and social engineering scams? This webinar will examine the dangers associated with remote working and give you the tools you need to keep your sensitive data secure.
Register below and we will send you the video conference information.
Bookings
Bookings are closed for this event.