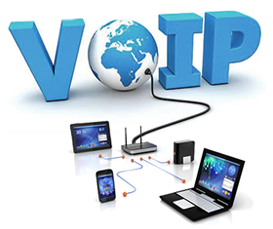 Voice over Internet Protocol, more often referred to as VoIP or Voice over IP is a technology that utilizes your internet connection to make and receive phone calls. VoIP is a popular technology option among small to medium sized business to replace their traditional phone system or landlines since it provides more features and cost benefits.  These added features and benefits are possible because VoIP utilizes software on servers meaning that features can be developed and added as new technology develops.  We'll discuss the benefits and features of VoIP that traditional phone lines lack and why they're important to businesses.
Extra Features
VoIP has a few extra features that regular landlines don't. In addition to making/receiving calls, transferring calls and voicemail, VoIP also has caller ID, video conferencing and phone extensions. A VoIP feature that really impresses users is the ability to have your phone extension at your desk or on your mobile phone. For companies that have remote users or people constantly out in the field, it's a big plus.
Enhanced Flexibility
VoIP's flexibility makes it compatible with almost all networks and can be used over WiFi! It can use data types in different combinations to make and route calls, a tool that can be extremely useful when developing and deploying applications across various computers.  This flexibility greatly diminishes any need to worry about incompatibility and can support many types of communication.
Real-time Faxing
Setting up and maintaining long distance fax services can be more expensive than what it's worth, not to mention the less than stellar data quality. The traditional fax service is also faced with equipment incompatibility causing more delays in the process. VoIP can replace your fax machine altogether with a fax interface by converting the data into packets to deliver data faster and more reliably.
Cost Benefits
Traditional landlines are more expensive than internet calling lines, so utilizing VoIP can help you reduce long distance calling costs.  Since it is scalable, you can adjust your plan to fit your business needs by adding or removing features and lines as needed.
OptfinITy has partnerships with many different VoIP providers. We can compare different providers with what you need and find a solution that is perfect for you. If you have any questions or are interested in switching to VoIP, give us a call!