Date/Time
Date(s) - January 28, 2021
12:00 pm - 1:00 pm
Categories
About the Series
We learned a lot about how to help a business adapt to these necessary changes this past year. To help every small business stay safe, we're launching a free new webinar series on how you can make adjustments without making sacrifices.  Each month of  "Are You Ready for the New Normal?" tackles a different issue on how to safely and effectively transition to working remotely.  Check out the other topics in this series!
The Best Way to Stay Connected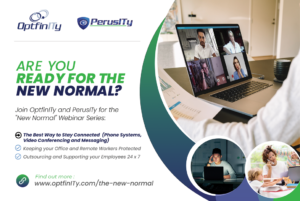 2020 changed the way we work. One of the biggest changes has been how we communicate with each other. As the workforce continues to evolve, businesses need to examine the needs of remote workers, B.Y.O.D. (bring your own device) policies, and how we stay in touch at the office, at home, or on the road.
Join us for this webinar where we look at the features and security concerns of VoIP phone systems, videoconferencing solutions, and messaging apps.
Sign-up below and we will send you the conference call information.
Bookings
Bookings are closed for this event.